**Heads up: This post contains affiliate links. As an Amazon Associate, I earn from qualifying purchases. Meaning I may receive a small commission– at no cost to you, of course– were you to make a purchase through any of the links. If I link to a product, I use it, I love it, and I think you would too! Please see my Privacy Policy for more details.**
Hello everyone! I hope you enjoyed Part 1 of this post series: The Best Tools For Refinishing Furniture – Furniture Prep. I covered everything from the best sandpaper, to the best safety supplies.
Today, I'll be covering the best paintbrushes for refinishing furniture, the best cheap paints for refinishing furniture, the best wood stains for refinishing furniture, the best topcoats for refinishing furniture, and the best waxes for refinishing furniture.
Once again, most of the products on my list can be found at Hardwareworld.com for incredible prices. The few items that are not stocked by Hardwareworld.com, I searched for the best pricing to share with you! Most items can also be found at your local hardware store as well.
So let's get to it!
The Best Cheap Paintbrushes for Refinishing Furniture
When I found this paintbrush on Hardwareworld.com, for this price… I was shocked. I paid A LOT more for one of these paintbrushes, and I treat the thing like my baby. I absolutely love it.
I do believe it's more for professional house painters than furniture painting, but I just don't care! The brush's oval shape is perfect for holding tons of paint without dripping. It's skinny enough to fit in tight areas, and slanted for a perfect line. The Picasso is just the perfect name for it because you really do feel like an artist with it in your hand!
You may not always need to use this brush for furniture. But, you'll be happy you have it at times, that is for sure.
The Shortcut is another brush that fits perfectly in your hand. The handle is soft rubber so you can easily bend it to where it feels right for you. Plus it's easy on the hands!
Besides the Picasso and Shortcut, the 100% best paintbrushes for refinishing furniture are the Zibra Brushes.
The Palm Pro-Cut In is similar to the Shortcut, except it doesn't need the rubber handle, because it's built with the perfect shape. It was truly created with the customer in mind.
All of the Zibra Brushes are this way. They are an amazingly innovative company, with every shape paintbrush you could think of.
The square brush, triangle brush, and round brush are great for painting table legs, or chair spindles.
They also have a chiseled wedge brush that is incredible for flat surfaces or trims. They've pretty much thought of everything when it comes to painting furniture…painting anything honestly! Hence why I love them!
Plus, they sent me this amazing item called the Open It! As a Xmas present last year.
I've got to say it may have been my favorite present of all that year. It came in SO handy for opening all of Alice's toys on Christmas morning that is for sure! There's nothing it can't help you open! (Not exactly a paintbrush but I just had to throw it in here.)
These are my favorite Chalk Paint and Wax Brushes. They're easy to find at your local Home Depot, but I honestly think I use them more than any specialty brushes I've tried so far.
The Chalk Paint Brush holds tons of paint and leaves a smooth perfect finish. I've had it for about a year now, and use it rather frequently. It still paints as nicely as the first day I got it.
Most paintbrushes will last as long as you treat them well, and clean them out promptly. (I won't lie, I have been known to leave a brush or two to harden oops.) But even so, the Behr Chalk Paint Brush has always snapped back to life after a bit of soaking.
A tip for saving your forgotten/hard as rock paintbrushes:
Try a fabric softener or laundry detergent soak. Leave the hardened brush in a 50/50 mix of hot water and 1 of those for a day or so. Rinse it thoroughly, run a Brush Comb Cleanup Tool like this:
(or a fork) through the brush, and it should come back to life for you!
If after a couple of days the bristles still won't budge, refresh the mix with super hot water, a bit of Dawn dish detergent, and fabric softener for another 24 hours. Hopefully, that should be enough! If not, unfortunately, you may be out of luck 🙁
I wouldn't recommend leaving paintbrushes in laundry detergent or softener for longer than 3 days. After that, you risk releasing the glue that holds the bristles in, and the brush will be junk either way.
The Best Cheap Paints for Refinishing Furniture
You just can't be $13.00 for 30oz of Chalk Paint. Rustoleum is one of the first brands I tried when I started painting furniture. Yes, there are lots of awesome expensive chalk paints that you could purchase. I honestly don't see a huge difference between those paints and the cheap ones.
FolkArt's Chalk Paints are another one of my favorites. I purchased some from a local craft store, and it really impressed me! It covers great, sometimes with only 1 coat. It's definitely on the cheaper side for chalk paints. Michaels had the cheapest price I found with tons of color options!
My third choice for the best cheap chalk paint would be Waverly Inspirations line of amazing chalk paints and waxes. They have every color under the sun, and you only need to buy what you plan to use.
They have tiny sizes for small projects or larger tubs for big projects. Some of the unique colors you'd never use a giant amount of at once. So it's definitely nice to have the option of just a tiny container for 2-4 dollars.
The Chalk-Tique Powder was one of the products I was most excited about finding on Hardwareworld.com. I was given some of this by a friend recently, and I fell in love!
You can basically turn any old water-based paint into chalk paint in minutes! Not just any chalk paint, but awesome chalk paint. It sticks to furniture like glue; dries quickly and smoothly.
Mix the Chalk-tique Powder with water, and then add it to your paint. Super simple, and in my opinion, better than trying to make the chalk paint yourself. If you're anything like me, it's a lot easier to buy a sure thing than try to mess around with mixing several things yourself. It just doesn't turn out well.
They also have great light and dark wax that I'll show you later on in the topcoats section.
The Best Cheap Milk Paints for Refinishing Furniture
This milk paint was one of the first paints I used that made me fall in love with painting furniture. Chalk paint is great and all, but there's just something about the texture and look of milk paint.
Rustoleum's Milk Paint doesn't quite chip like other milk paints do, as milk paint is known for doing. But its finish is soft and smooth, it dries super fast, and covers great on sanded pieces.
I love using milk paint for blending paint colors together. It dries quickly, but with the help of a spray bottle, you can work it for quite a while until you get the look you want.
I had so much fun blending Rustoleum's Navy Milk Paint with the Kensington Gray Milk Paint on my Painted Sideboard Project.
The colors just blend together beautifully, and the Rustoleum Milk Paint really is very forgiving. If you don't quite like the look of the blend, spray it down and try again until you get it right!
Plaid FolkArt Milk Paint 6.8 oz. New England Red
Just like I love their chalk paint, I love their milk paint. It spreads as smoothly as a stain but dries to a dead flat finish. Superfast! Plaid's 6.8 oz "milk jug" bottles are the perfect amount for a small project, for cheap!

Plaid FolkArt Milk Paint Brush 1 1/4 in. – $10.74
from:
CreateForLess
While it wasn't one of my choices for the best paintbrush for refinishing furniture, I had to throw Plaid's Milk Paint paintbrush in here. The natural hog bristles are perfect for holding milk paint and releasing it uniformly. If you have trouble with brush marks while using milk paint, definitely try this paintbrush.
Patina Green Milk Paint Water Based Pint
General Finishes Milk Paint is a bit more pricey than the rest of the milk paints on my list, but it definitely shows through on your end product. It's a quality, thick milk paint that levels out amazingly. It's pretty difficult to have brush marks showing after using this paint.
One thing I love about this paint is that it's interior/exterior, which a lot of these paints are not. This is definitely a bonus when painting outdoor furniture.
The Best Cheap Wood Stains for Refinishing Furniture
In my How to Stain Wood Furniture post, and Staining Wood After Wood Filler Repairs post, I talked about Zar Wood Stain. It's my absolute favorite wood stain for pretty much everything.
No matter what, if you don't sand your wood furniture correctly or prepare the wood for staining correctly, you'll have a difficult time getting a good end result. But Zar Wood Stain actually makes me think you could get away with just an okay job on that part, and still end up with a great stained piece! (Not recommending that at all, but still.)
It's controlled penetration creates a smooth, uniform stain every time. And you can use it on metal too!
There's not much I can say about Minwax Wood Stain. It's the tried and true stain that obviously popular for a reason. It works great, but you definitely want to be sure to prepare the wood surface well before using it.
Coating the surface with Black Tea is now a must for me when using Minwax Stain. It just comes out so much better after this treatment. Check out my post on how to apply black tea to prepare wood for staining for more.
Before heading to your usual hardware store to purchase it, check out the pricing at Hardwareworld.com, it's cheap!
Colonial Maple Gel Stain Solvent Based Pint
General Finishes has amazing wood stains as well. I prefer their gel stain for furniture refinishing. If you're looking for something super thick, almost paint-like, this is your stain.
Although it is a gel stain, you can also apply it like a regular stain by wiping it on and off. This way, you will see more wood grain than other gel stains. Otherwise, use a paintbrush and brush it on like paint to get the darkest end result possible.
The Best Cheap Top Coats for Refinishing Furniture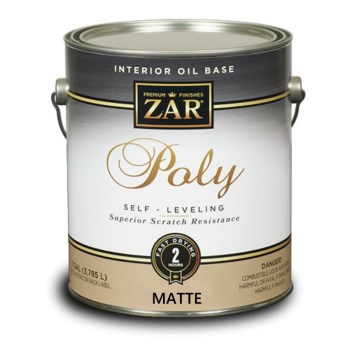 UGL 33913 UGL/ZAR 33913 Oil-Based Interior Polyurethane Wood Finish, Matte ~ Gallon
from:
Hardware World
For interior furniture that is going to get a lot of use, I'd recommend polyurethane over wax. Once again Zar is my favorite here. It dries crystal clear, with no yellowing over time.
It's also easy to apply and levels itself out nicely so you don't end up with brush marks all over the place.
Even if your piece is going to be used inside only, you may benefit from using an exterior topcoat. It couldn't hurt, right? If you plan to sell your piece, you never know what a customer plans to do with it. Even if you plan to keep it yourself, being able to bring it outside without worry is always a nice bonus.
Plus water spills and sun damage happen inside all the time! Exterior polyurethane like this Zar Water Base Exterior Poly will save your wood piece from accidents, and last much longer than regular polyurethanes.
It does dry with a light amber finish due to the radiation absorbers for UV protection, so keep that in mind before choosing this as a topcoat for your piece.
Another great choice for a top coat on your interior or exterior pieces is this Spar Varnish. For the same reason, I recommended Zar's Exterior Polyurethane. This stuff is meant for use on salt-water boats, so you know it's tough!
Last but not least for topcoats other than wax to use over chalk paint, stain, or milk paint; is Rustoleum's Chalked Protective Topcoat. I love this over chalk paint because it is a seriously clear matte finish. It's as close as you can get to an invisible finish.
A lot of topcoats will change the color or look of the chalk paint slightly, no matter how clear they say it is. This stuff works great though, and it lasts longer than waxes which have to be reapplied after a while.
You can go one better, and use this protective topcoat before you apply your wax. It's practically invisible, so you won't see a huge change in the look once waxed. If your piece is going to get a lot of use, this is a great solution to reapplying wax every so often.
On my latest Faux Barn Door Coffee Table, I used the protective topcoat and then applied clear and dark wax. It just gives me a bit of peace of mind when I plan on selling a piece that will be used frequently.
The Best Cheap Waxes For Refinishing Furniture
These paste waxes are a favorite for me when working with chalk paint. It's a blend of beeswax, Brazilian carnauba wax, and orange oil. Carnauba wax is great because its finish is hard, and not sticky or tacky.
The harder the finish, the better the protection. The beeswax helps soften it slightly for easier application. And the orange oil gives it just a slightly oily sheen for a gorgeous finish.
Another Howard product that I love! I wouldn't recommend using this one over paint. It's great for wood furniture that needs to be conditioned. Plus it also has carnauba wax so it offers strong protection as well. It brings the color out in the wood beautifully. After applying you will need to buff it similar to other waxes used over chalk or milk paint.
This wax is also a close second:
Minwax Dark Finishing Wax Paste 16 oz.
DecoArt Americana Decor Creme Wax 8 oz. White;
American Decor waxes are great for beginners at furniture waxing. Most waxes are on the thicker side, which makes them more difficult to work with. These waxes are thinner and much easier to apply. I definitely recommend coating with the clear wax first if you plan on antiquing your piece.
If you don't apply the antiquing wax perfectly the first time, it has a tendency to appear blotchy on the piece. Otherwise, I'd recommend using a glaze by adding mineral spirits. Check out my Antique Wax Glaze on Chalk Paint post for complete instructions on that.
Although I have yet to try Behr's Chalk Paint, I love their Chalk Paint Brushes and their Decorative Waxes. Compared to the two I mentioned above, Behr's Waxes are more solid, and have more of a wax texture. Using one of their wax brushes it goes on smooth and silky, but hardens and buffs with a nice satin sheen that I love. I definitely recommend it for an intermediate furniture painter.
And With that, I'll conclude my list of the best cheap paints for refinishing furniture & more
Whether you're a seasoned pro, or just starting out in refinishing furniture, I hope that you found my choices for the best cheap paints, stains, waxes, and paintbrushes helpful on your journey! Please let me know if you think I've missed a product, or know of something new I should try. I'm always open to trying new products for refinishing furniture!
If you haven't yet, check out my other helpful tutorials on refinishing furniture. Such as my Metal Furniture Refinishing post, or 5 Unique Wood Finishing Techniques.
Until Next Time,
KRay